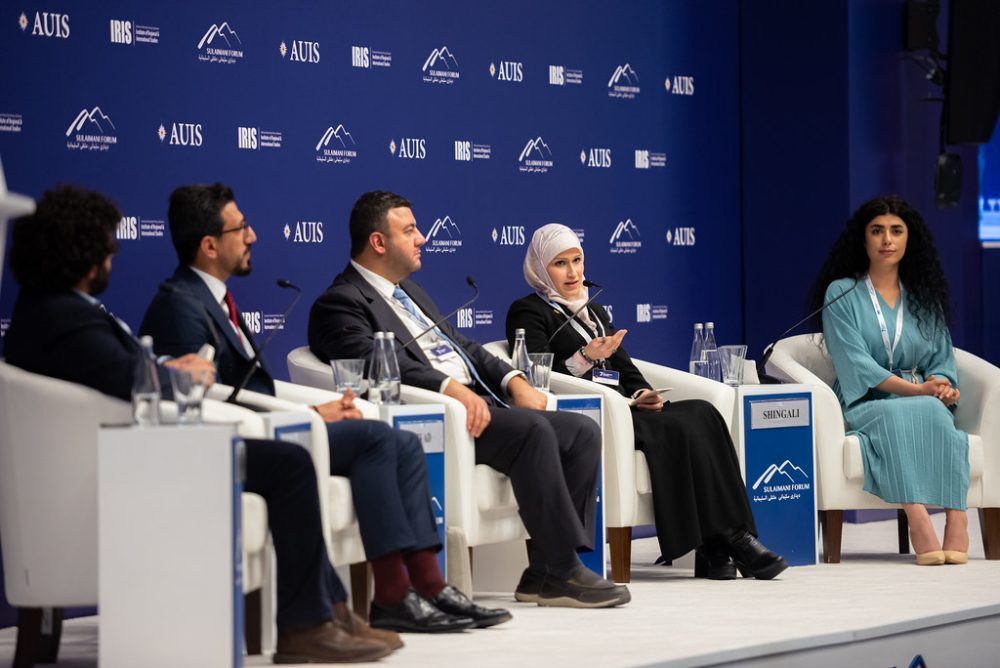 On March 15, 2023, three ILF alumni joined the Sulaimani Forum as speakers. The three alumni, Zahra Al-Sadr (Vice President of the General Committee of the National Hikma Movement), Samiya Shinghali (Sinjari Poet & Activist), and Shivan Fazil (Researcher, SIPRI), were featured on a televised panel entitled "20 Years Later: Reflections on Iraq's Past, Present, and Future." The Sulaimani Forum, which is hosted by the Institute of Regional and International Studies (IRIS) at the American University of Iraq, Sulaimani (AUIS), is Iraq's top policy event and is broadcasted across the region.
Zahra, who holds a major leadership position in one of the most significant political movements in Iraq today, spoke about the importance of empowering Iraqi youth and equipping them with the skills they need to build sustainable political and social movements. She cited the ILF Program as an example of a successful initiative in this area. Samiya, a Yezidi activist well-known in Sinjar for her distinguished social work, urged politicians and government officials to listen to the demands of the youth and highlighted the enduring effects and traumas of war in her community. Shivan, a researcher at SIPRI, gave a presentation on his recently published paper about the hope and despair of youth in the Kurdistan Region of Iraq. The discussion, which was moderated by Hayder Al-Shakeri of Chatham House and also included Sajad Jiyad of the Century Foundation, shed light on the challenges facing Iraqi youth in the aftermath of years of conflict and instability, and highlighted the important role they can play in shaping the future of the country.
The ILF alumni spoke in the presence of top policymakers from Iraq and around the world. This year's speakers included Iraqi and Kurdish leaders such as the Prime Minister of Iraq Mohammed Shia Al-Sudani, Kurdistan Regional President Nechirvan Barzani, and KRG Deputy Prime Minister Qubad Talabani, in addition to foreign leaders such as Special Representative of the UN Secretary-General for Iraq Jeanine Plasschaert, Special Advisor to the US President Terry A. Wolff, and the Former Foreign Minister of Sweden Ann Linde.